Keaton Henson's Debut Album, "Dear…"
by CJ on Fri 12 Nov, 2010
Up until now, Keaton Henson was known to me as a t-shirt designer and artist. Several illustrations of his have achieved Tee Of The Day (TOTD) status over at the t-shirt centric website, Emptees.com (now named Mintees.com). Among some of those winning illustrations, along with other pieces, are popular Miles To Go t-shirts (Moby Dick, Invisible Man, Life of Pi, to name a few). His work can also be found at Urban Outfitters, among other places. Needless to say, Mr. Henson has established a following with his unique style and has become an accomplished artist.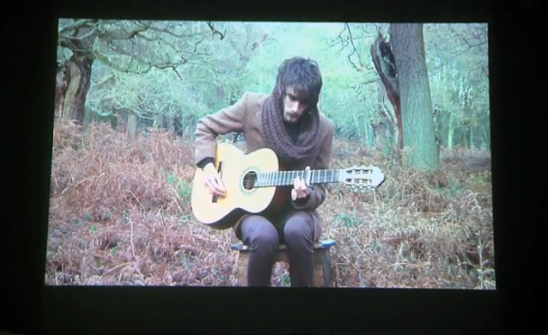 What I didn't know until recently about Keaton Henson, was that he is also a singer/song writer and musician. His debut album, entitled "Dear…", is due out this November 22nd. What's more interesting is that the first 620 editions of the album are handmade and sewn by Mr. Henson himself. The first 120 of those will contain a custom hand-drawn illustration. Furthermore, the album is entitled "Dear …" but for the first 620 editions, the album will be custom titled to be "Dear (your name)".
This DIY approach is a nice personal touch for the lucky few who are able to acquire the limited edition album. Check out this video about the "Making of Dear (…)":
After learning about Mr. Keaton's musical aspirations and after a cursory listen of some of his music, you just get the impression that this guy exudes creativity. I was impressed with his artistic ability but after listening to of some of his songs, I'm equally impressed with his singing and song writing. I am not sure which songs are on his debut album but the song, Nests, in particular is compelling:
Again, Keaton Henson's debut album is said to be out November 22nd; however, I have no idea how to buy one yet. I assume that information will soon be forthcoming. Even if I did know, I'd be lucky to get my hands on a limited edition copy.
Keaton Henson's website:
https://www.keatonhenson.com/