Testimonials & Lessons Learned
by CJ on Tue 08 Feb, 2011
When it comes to running a small business, I expect to learn some things the hard way… by making mistakes. So far, I have learned a lot this way. Along with every struggle you hope to also have positive feedback to let you know you are headed in the right direction. Before I write about some of the lessons learned I'll share one testimonial in particular that keeps me motivated. Many thanks to everyone who took the time to write kind words and to give me feedback.
Testimonials
Along with making mistakes I've also done a few things correctly. One email in particular is quite meaningful since it came from a t-shirt collector who buys shirts online regularly. It's a testimonial that I'm proud of and it's the type of customer experience I strive to provide for everyone. A ton of credit goes to Rob Gould for creating such great artwork, in this case. (Click image to enlarge.)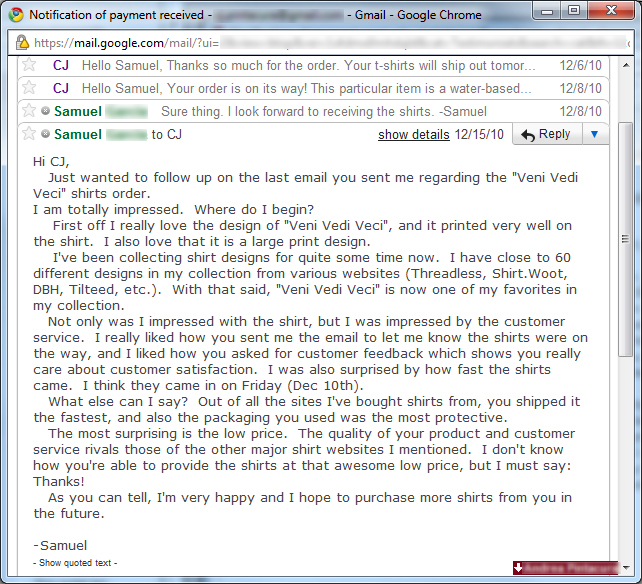 Hi CJ,


Just wanted to follow up on the last email you sent me regarding the "Veni Vedi Veci" shirts order.
I am totally impressed. Where do I begin?

First off I really love the design of "Veni Vedi Veci", and it printed very well on the shirt. I also love that it is a large print design.
I've been collecting shirt designs for quite some time now. I have close to 60 different designs in my collection from various websites (Threadless, Shirt.Woot, DBH, Tilteed, etc.). With that said, "Veni Vedi Veci" is now one of my favorites in my collection.
Not only was I impressed with the shirt, but I was impressed by the customer service. I really liked how you sent me the email to let me know the shirts were on the way, and I liked how you asked for customer feedback which shows you really care about customer satisfaction. I was also surprised by how fast the shirts came. I think they came in on Friday (Dec 10th).
What else can I say? Out of all the sites I've bought shirts from, you shipped it the fastest, and also the packaging you used was the most protective.
The most surprising is the low price. The quality of your product and customer service rivals those of the other major shirt websites I mentioned. I don't know how you're able to provide the shirts at that awesome low price, but I must say: Thanks!
As you can tell, I'm very happy and I hope to purchase more shirts from you in the future.

-Samuel
It is these types of emails that make all the effort worthwhile and keep me going. Many thanks to Samuel for taking the time to write!
Lessons Learned
I've learned a ton so far – too much to write out in a single blog post and in some cases too embarrassing to spell out. Nonetheless, I'll point out a few meaningful insights that I've picked up… some of which, I'm sure, will likely be obvious to other online proprietors. Some of these lessons are specific to my biz: screen printing, and others are specific to my situation: part-time business owner as a hobby.
Learning to print costs money.
More precisely, screen printing mistakes cost money. I learned to screen print at an early age prior to my current occupation (the day job) so I thought I might be able to hit the ground running without making costly mistakes. This was not the case. My suggestion to anyone wanting to build out a screen print shop would be to budget in a healthy amount of funds for learning how to print (or re-learning, in my case). Also, water-based inks were new to me and I had a mix of new and used equipment. It takes time and trial and error to refurbish and to learn how to get the best out of your equipment. Not only that, I've made expensive mistakes. I've printed full runs and then realized the flaws after the fact. Not factoring in the cost of spoilage will give you a lot of anxiety if you are not prepared for it. Fortunately, my printing process is becoming more familiar, reliable, and much easier. I have not produced any expensive mistakes in a while.
An online store-front filled with products does not guarantee sales. Have a marketing strategy.
Throw up an online shopping cart and watch the money roll in, right? So not true. In fact, the way I went about starting up was probably more challenging than most. None of my family or friends knew about my screen printing endeavor when I started. Most still don't know that I'm doing this. I never had that built-in unconditional fan base to kick-start my business. I intentionally kept a low profile, for whatever reason, and needed to figure out how to market and generate sales.
If you send out defective product (unintentionally), chances are you won't hear about it and you've lost any chance of a repeat customer. Try to send out perfect product every time.
I guarantee all my work. Meaning, if I make a mistake (send the wrong size shirt, the shirt has a flaw, etc.) I refund the purchase plus shipping. I will go out of my way to make things right. In one instance I did a random follow-up email with some customers and found out in one case that they received the wrong size shirt. Totally my mistake, so I exchanged the shirt for the correct size but I would never have known unless I followed up. After inquiring, the customer felt they "couldn't be bothered" to go through the hassle of asking for an exchange on their own accord. I quickly then realized that I've done the same thing in the past with defective t-shirts I've purchased. In some cases, it's too much of a hassle to go through the process of sending the shirt back and hoping for good customer service and a proper exchange. Even though it could have been a rare mistake on the vendors part, I'd thought to myself that I'd likely never order from them again. Fulfilling orders takes time but it's something I try to do well by double and triple checking orders for defects, etc.
Plan on spending more time running and maintaining the business than doing what your business is about.
This lesson learned is specific to my situation: running a small screen printing business in my spare time. I spend more time running and maintaining the business than I do in the shop screen printing. I work hard at what's most important and that's promptly fulfilling orders and maintaining relationships (email). In fact, I spend most of my time on the computer and struggle to find time to be creative and print new stuff. I'm not complaining, it's just the way it goes.
Progress is slow!
Closely related to the previous lesson learned, progress is slow. This may be obvious but things just don't happen overnight. More so for individual proprietors who truly only work in their spare time. For me, family and my day-job come first and foremost. After that, it's exercise. Once all of those things are fulfiled, then and only then, will I work on my small business. This usually means that I'm working on Unknown Artifact (UA) in the middle of the night or early morning before bed. It's rare when I'm working on UA and I'm not completely fatigued. Sometimes it's frustrating when progress is not made fast enough but it's something that I'm getting used to. Whether or not you have a lot of time to allocate to your spare time projects, progress is usually considered a marathon, not a sprint. The progress I've made thus far and the anticipation of what I would like to accomplish in the future keep me motivated. No matter how slow the progress, it's still motivating and fulfilling nonetheless.