T-Shirt Neck Tags Printed With Photo-Polymer Stamp
by CJ on Mon 25 Oct, 2010
Printing neck tags on garments the traditional way is usually a hassle with water-based inks. Unlike plastisol inks, water-based inks dry into the screen in a short amount of time. This means a new screen needs to be burned and reclaimed every time a new neck tag run needs to be done. This repetitive process is a strain on resources so I was on the hunt for a simpler way of printing neck tags.
A neck tag print must not bleed through to the outside. For this reason, neck tag prints are usually a rough/light print compared to what you would see on the outside of the garment. It's a topical print. Knowing that the quality of the print was not of great importance I thought I'd try using a custom photo-polymer stamp.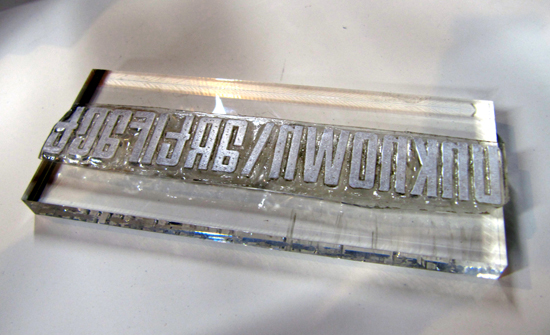 After a little practice, I was able to come up with a technique that produces a legible print.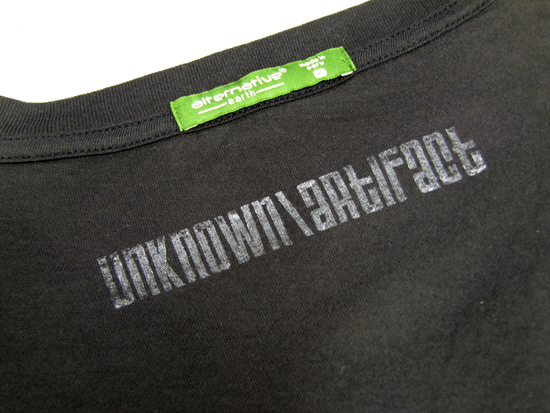 After stamping, I used a heat gun to set the ink.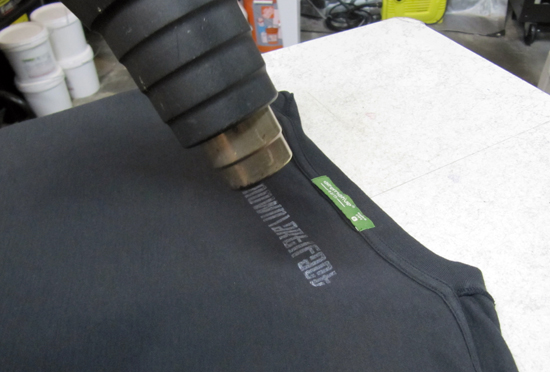 I think my expectations prior to testing this technique were low so I'm pretty happy with the results. Although there are some print-quality limitations to using a photo-polymer stamp on garments, it does save on resources. Especially for short runs. So far, it does appear that the benefits do outweigh the limitations in this case.
Many thanks to Liz over at Blue Diamond Stamp Company for providing me with my custom stamp.