Expectations & Pre-Orders
by CJ on Thu 07 Oct, 2010
UA is not a brand in the traditional sense. There is no explicit intention to create a cohesive set of designs. Rather, UA is a creative outlet for me to learn how to design, print, and run a small business. With today's technology, it is possible to run a small business as a hobby. That's the theory anyway. Subscribe to my blog and follow along as I attempt to prove this theory.
Expectations
UA is maintained in my spare time. It occupies my interests in small business and printmaking. In addition, this hobby is a solo effort. I run the business end, create and maintain the UA website, create the graphics/artwork, and fulfill the orders. I also pull all the prints on a 6-color carousel t-shirt press in my garage. Everything is done in-house, literally.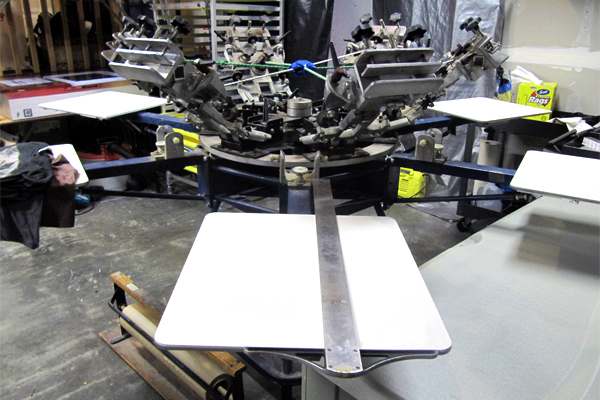 Just because UA is a spare time project doesn't mean it's not a priority. Rest assured that quality and customer service is paramount to this endeavor. Learning and creating a community of satisfied customers are key. That said, here is a short list of other things you can expect:
Low-Cost, High-Value, Custom Printed T-Shirts
You can expect custom printed products using water-based inks for an affordable price. Designs will primarily be printed on American Apparel or Alternative Apparel garments and will be offered via pre-orders. Subscribe to the UA blog to know when new pre-order designs are available.
Money Back Guarantee
Return any product for a full refund, minus shipping, for any reason. If the reason is due to my fault in any way, you can expect a full refund that includes shipping. Please contact me should you have any issues.
Prompt Shipping/Delivery
If an item is in stock, it will be shipped that day or the following business day. If the item is in pre-order, the item will be shipped the next business day after it is printed. In most cases, all orders are shipped world-wide via USPS.
Pre-Orders
Pre-orders are UA products that are offered for sale before they are printed. A computer generated mock-up of a design is created and a perspective buyer has a window of time (usually 7-14 days) to purchase the pre-order item at a discount (usually $10-$12 for an American/Alternative Apparel t-shirt). After that, the pre-order sale for that item is closed and the garments are ordered, printed, and shipped to the buyers. Any additional garments printed are added to the Shop for a higher price (usually $14-$18 for an American/Alternative Apparel t-shirt).
Subscribe to the UA blog to know when new pre-order designs are available.